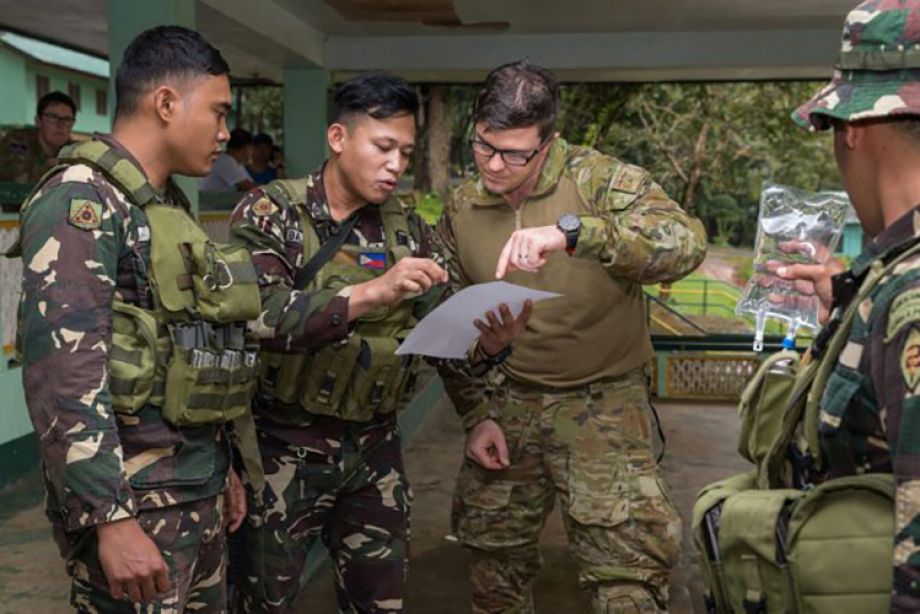 Australia's engagement with the Philippines before, during and after the conflict in Marawi last year was more than just a humanitarian response. It signalled Australia's maturation as a regional security actor and 'provider of choice' for our neighbours.
Australia has a strong interest in stopping Islamic State from taking root in Southeast Asia, so providing operational and policy support to regional partners remains a priority.
It's worth examining both how Australia delivered help to the Philippines in Marawi and the lessons that were learned from the operation because it's likely that similar help will be required in the region in the future.
In 2017, when the Philippines government put its armed forces in charge of restoring law and order in Marawi, Australia was able to offer technical expertise, lessons drawn from years of fighting and training local forces in Iraq and Afghanistan, and the loan of intelligence, surveillance and reconnaissance (ISR) capabilities that the Philippine military is still developing.
Under Operation Augury, Defence Minister Marise Payne authorised a package led by 1RAR commanding officer Lieutenant Colonel Benjamin McLennan as Joint Task Group 629. A flexible and adaptive urban warfare counterterrorism training program was quickly put together to upgrade Philippine skills, training and capacity. Australia also contributed two AP-3C Orion surveillance planes to provide ISR that enhanced the situational awareness of Philippine ground commanders.
In conjunction with the defence package, Foreign Affairs Minister Julie Bishop approved a Department of Foreign Affairs and Trade–led humanitarian assistance/disaster recovery package that was delivered through the World Bank. That made Australia the largest international humanitarian donor to Marawi: A$920,000 for humanitarian recovery, peace and stabilisation initiatives.
The decisions to limit defence help to an advisory role and not to embed Australia Defence Force personnel with Philippine troops in the fight, and not to provide continued support to the civilian reconstruction of Marawi, reflected Australia's respect for Philippine leadership and policy priorities. They also recognised the existing capacity and experience of the Philippines.
Perhaps our most significant contribution to the post-conflict environment was hosting—in conjunction with the Philippine government's inter-agency Task Force Bangon Marawi—a 'Reconstruction, Recovery and Rehabilitation Seminar' from 6–8 November 2017 in Manila. The seminar was designed for those involved in the campaign, as well as for their Australian counterparts, and aimed 'to share their knowledge and experience regarding lessons learnt from whole-of-government post-conflict operations and to build networks across government'. It gave voice to more than 100 delegates from across the civil and military landscape.
Attendees included representatives from the Office of the Presidential Adviser on the Peace Process, Office of Civil Defense, Lanao del Sur provincial government, and Department of Public Works and Highways, among many others. The goal was to provide an understanding of the importance of civil–military partnership, but it also allowed the 80 Australian personnel deployed to the Philippines to quietly influence the post-conflict environment.
In setting the framework and program for the event, Australia was able to nurture working relationships with Philippine decision-makers in the task force. This helped Australian efforts to ensure a successful recovery operation that aimed to avoid creating conditions that would allow extremists to regain a foothold in disaffected communities.
The key message for Australian policymakers is that we can expect more Marawis in our region. The risk to regional stability posed by Islamic State's goal of creating a 'caliphate' in Southeast Asia has by no means passed, and the urban conditions which led to this conflict remain widespread...
- By Samuel J. Cox