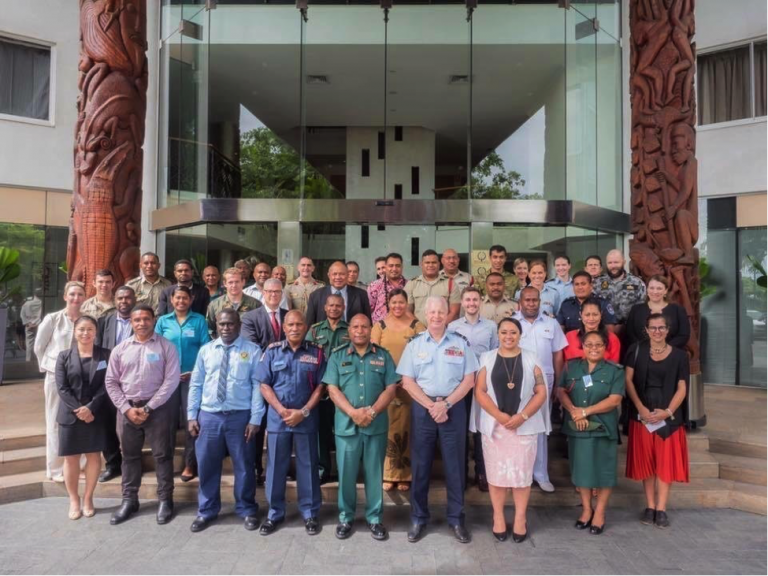 The Future Leaders' Summit is an initiative of the South Pacific Defence Ministers Meeting. The biennial event is designed to bring together young leaders from Australia, Chile, Fiji, France, New Zealand, Papua New Guinea and Tonga to discuss Defence and Security issues present or developing in the Pacific.
In March 2018, ACMC was proud to support the Government of Papua New Guinea and Australia's Department of Defence to deliver the Future Leaders' Summit in Port Moresby, PNG.
The Summit was attended by 30 young leaders who worked together to strengthen understanding, enhance collaboration and foster interagency cooperation to advance our shared interest in achieving a prosperous South Pacific.
Delegates received briefs from subject matter experts from across the region, and worked together on a range of interactive activities, sharing their knowledge and experience on:
Emerging threats and security challenges in the Pacific region
Women, Peace and Security in the Pacific
Working with the humanitarian sector in humanitarian assistance and disaster relief operations
Whole-of-government approaches to transnational crime in the Pacific
Regional approaches to maritime security
Delivering major events.
Delegates had the opportunity to dine with and receive keynote addresses from the following dignitaries:
Commander Papua New Guinea Defence Force, Brigadier-General Gilbert Toropo CBE;
Royal Papua New Guinea Constabulary Commissioner Gari Baki CBE;
Chief of the Defence Force, Air Chief Marshal Mark Binskin AC
Australian Federal Police Commissioner Andrew Colvin APM OAM.
Lessons tell us that the partnerships formed at the Future Leaders' Summit will continue to enhance the security of our region for many years to come.
Support to PNG's hosting of the Summit is just one way that ACMC is working to support the development of integrated civil-military-police capability in our region.